Google says Nexus 4 supply a "priority", will focus Motorola on future phones' battery life and durability
14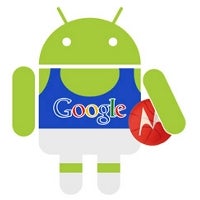 Google's CEO Larry Page spent some time discussing issues near and dear to our hearts during the conference call with investors after the quarterly results came out yesterday.
On the shenanigans with the
Nexus 4
: "
clearly there's work to be done managing our supply better, and that is priority to our teams
." Last week LG's France office boss said
Google based their demand forecasts on previous Nexus phones sales
, underestimating how much people would want the phone, and now LG has to up production to equate supply and demand by mid-February.
As far as Motorola goes, so far things have been focused on restructuring and streamlining the phone maker's operations, but it is increasingly clear that in the end Google won't just keep it completely autonomous as it tried to portray during the purchase process. A few tidbits said by Larry Page and the CFO reveal that Google is much more involved in the strategy of the company than it was previously thought.
Google's CFO said that Motorola had a 12-18 months product roadmap when they bought it, so they had to go through that, with the
Razr M
being the last device conceived under former CEO Sanjay Jha, and now they are working closely with the manufacturer to resolve two very critical issues for smartphones -
battery life and durability
:
Battery life is a huge issue. You shouldn't have to worry about constantly recharging your phone. When you drop your phone, it shouldn't go splat. Everything should be a ton faster and easier. There's real potential to invent new and better experiences.


Given that the rumors about a joint Google-
Motorola X
device are increasingly often, we might see the first attempt to bridge the gap from where we are now to where we want our phones to be in terms of durability and battery endurance as soon as Google's I/O in May. Motorola is top dog when it comes to battery life with its MAXX line, and Sony showed what can be done in terms of design and durability with the
Xperia Z
, so we are keeping hopes high.
On the rivalry with Apple, Larry Page said that Google is taking the steady approach, perfecting products over long periods of time until nobody else can replicate them easily, and he gave the case in point saying "
long-term investment in Maps has paid off
," considering they've been working on mapping the world for a decade now, and Apple mustn't have spent more than a couple of years on its own software.
It was also mentioned that Google doesn't expect immediate returns from its products, and is monetizing efforts like Maps directly and universally across platforms: "
The number of search queries that we receive that are geographically related is very high, and we generate quite a bit of money from our web search business. But we're in the early stages of monetizing Maps directly in the Maps product
."