Google said to be working on Android 4.3 for Google I/O, another Jelly Bean build
37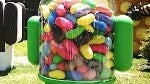 Imagine ordering desert at a restaurant and instead of getting the slice of key lime pie you've ordered, you get a bowl of jelly beans instead. You would be disappointed, right? Well, something quite similar is apparently taking place in the world of Android where server logs are showing that instead of rolling out Android 5.0 Key Lime Pie at the Google I/O developer event next month, Google might send out a substitution,
Android 4.3 Jelly Bean
.
Just a few days ago, speculation intensified that
Android 5.0 would not be making its debut at Google I/O
. A "J" designation seen next to the Android 4.3 build on the server logs seems to confirm that the next version of android released will continue to be Jelly Bean. And for those who want to doubt the authenticity of the server logs, the IP addresses connected to the Android 4.3 build are said to be coming from
inside Google
.
Why the delay? It has been thought that Google's hardware partners are not happy with the prospect of being one full point-0 version behind the times. With the delay, manufacturers will have time to get Android 4.2.2 pushed out to their devices first. Last week, there were rumors spreading that the only new phone related item expected at Google I/O this year will be a
32GB variant of the Google Nexus 4, with support for LTE connectivity
. While that would certainly make a large number of Android fans happy, there are even a larger number expecting to see Android 5.0 and some earth shattering phone introduced, like a
Motorola X
or LG Megalodon.
Before you jump, there is also the possibility that Google is trying to fake everyone out and Key Lime Pie is coming next month along with an outrageously spec'd phone. We will all know for sure very soon.
source:
TechnoBuffalo
via
RedmondPie

Server logs seem to be showing Android 4.3 with the "J" designation for Jelly Bean