Google purchase of Motorola Mobility about to get the green light from the Justice Department
12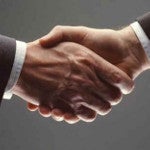 Unlike AT&T's failed purchase of T-Mobile, the wireless industry seems on the verge of seeing a
major merger close
. According to people familiar with the case, the Justice Department is about to give its blessing to
Google's $12.5 billion purchase of Motorola Mobility
. While Motorola Mobility does have a roster of well-accepted Android smartphones such as the
Motorola DROID RAZR MAXX
, the impetus for the deal was the Mountain View based company's desire to acquire its target's patent portfolio. The approval is penciled in for sometime next week. There are still worries on the mind of anti-trust enforcers in the U.S. and Europe. These regulators want to make sure that after the deal closes, Google will still license the Motolrola Mobility patents
fairly to its competition
.
Again, according to those in the know, the Justice Department is also expected to approve another deal as it will allow a group of tech giants like Apple, RIM and Microsoft to join together in purchasing patents from bankrupt Canadian firm
Nortel Networks Corp
. for $4.5 billion. The worry here is that this group could get together to use these acquired patents to attack Google's Android OS. The Justice Department did not comment.
Some patented technology has become industry standards and some companies owning these patents are licensing them to the competition under fair, reasonable and nondiscriminatory terms, also known as FRAND. Recently Motorola argued in a German court that Apple infringed on its FRAND patent and
won an injunction temporarily forcing Apple to stop the sale of certain of its products
on its German online store.
source:
WSJ