Google pulls Google Voice from the App Store temporarily after the app crashes during sign-in
11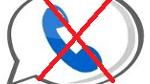 Google Voice
has been temporarily pulled from the App Store by Google itself afte
r
a bug forces the app to crash whenever an iOS 5 user tries to sign in. Explaining the reason for pulling the app,
Senior Product Manager Vincent Paquet said that Google didn't want the problem to spread before it could devise a fix.
There is no estimate as to when the app will return to the App Store.
First listed in the App Store back in November 2010
, Google Voice has had
a rocky history with Apple
. Originally planned to be added to the online application store as early as 2009, Apple said that it kept out the app for duplicating functionality while reducing it at the same time. While some say the lack of multitasking in Apple's mobile OS at the time was the reason for turning down Google Voice, others felt it was
revenge from Apple
for Google's development of Android.
Google Voice gives you one number that will ring through to all of your phones, free domestic calls from the U.S. and Canada, and low priced international hookups. Other services available for U.S. users of the app include voicemail (including the ability to transcribe messages into text), call screening, free text messages to any domestic phone, and the right to block an incoming call.
source:
electronista