Google patents Project Glass trackpad
4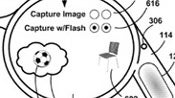 By now Google's
Project Glass
probably needs no introduction, but it's the little details about the glasses prototype that we still need some clarity on. We saw Google's very own Sergey Brin come with the glasses and tickle around with what appears as a trackpad on one side, but how could it possibly work and what would that mysterious interface look in the glass?
Google just got approved for a patent with the United States Patent and Trademark Office (USPTO), that might have just revealed that. Google has now patented a trackpad on both sides of the glasses frame that would work with the up, down, left and right gestures, and you'd also be able to select things using the very same trackpad.
So obviously, one thing you'd be able to do on the glass is read email and scroll up and down using the trackpad. Sadly, that screen (if the patent filing is of any significance) is pictured to only hold five lines of text. Also, you'd be able to finetune the camera and select whether your shot will be captured with flash on or off. One thing that is certain, though, is that this time Google is building a solid legal backbone for its glasses.