Why Google's secret attempt to settle with the EU Competitive Commission failed
9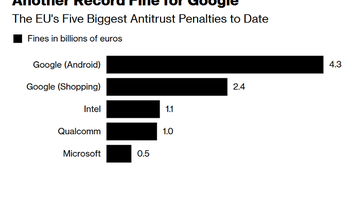 Last week, we told you that
Google had been fined the princely sum of $5.04 billion
by the EU. The EU Competition Commission found that Google violated antitrust regulations by requiring that phone manufacturers install certain Google apps on Android phones (like Search and Chrome), pay these manufacturers to limit the installation of Search apps on their phones to Google Search, and ban the release of handsets using unapproved versions of Android. According to a report published today, Google's secret attempt to settle with the EU failed because the company waited too long to offer a settlement plan.
The dispatch from Bloomberg reveals that last August, after being fined a then-record $2.4 billion euros ($2.7 billion USD) in a separate case involving the EU, Google attempted to reach out to the European Union Competition Commission headed by Commissioner Margrethe Vestager. In a letter sent to the Commission, the company outlined some broad ideas to make the antitrust case go away. In the letter, Google said that it would make changes to its contracts with phone manufacturers giving them more options in regard to their use of Android. This would make these pacts less restrictive in line with the EU's thinking. The letter also contained two plans to distribute apps to the manufacturers in new ways.
Google never received a response from the EU about the possibility of settling. According to Commissioner Vestager, Google had sent its letter about a year too late. She said that the company should have responded immediately after it received the initial complaint from the EU. "That didn't happen in this case and then of course it takes the route that it has now taken. So no surprises," the commissioner said. In addition, the EU Competition Commission felt that the letter was not convincing.