Pixel 3 name leaked by Google
16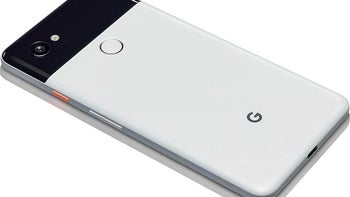 Guess what? The next version of Google's high end handset line is going to be named (better sit down for this) the Google Pixel 3. Okay, that is obviously not shocking and we're sure that in the U.K., where you can bet on almost anything, the Pixel 3 is the heavy favorite to be the name of the sequel to the
Pixel 2
, which in turn was the sequel to the
OG Pixel
. And we'd also bet that the Pixel 3 will be accompanied by the larger, premium Pixel 3 XL.
Actually, the leak that gives away the Pixel 3 name comes from Google itself. Found in a commit on its Android Open Source Project website titled "Cherrypick 'Add device config to decide which Auto Selection Network UI to use'," is a sentence that gives away the name of the upcoming 2018 series. It reads, "This change added the config because the HAL V_1_2 only supports
Pixel 3
, and the new Auto Selection Network UI is based on HAL V_1_2."
Besides the mention of a Pixel 3, it is interesting that the HAL V_1_2 seems to be exclusive to the next Pixel model. HAL (Hardware Abstraction Level) refers to Project Treble. The latter helps separate the high-level Android OS framework from low-level hardware code. This makes it
easier and faster to push out new builds of Android
since the low-level hardware code does not have to be repeated in an update.
So now you know, as if there were any doubt, that we should see the Pixel 3 and Pixel 3 XL greet the light of day some time later this year.

Google leaks the Pixel 3 name in a commit
source:
AOSP
via
XDA
Recommended Stories