Google has been thinking about more granular permissions control on Android
15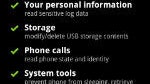 While it is very nice that Android allows you to see everything on your device that an app will have access to in the permissions, it can get annoying that it is an all-or-nothing choice. For example, you may love the Amazon app, but you don't see any reason why the app should need to access your WiFi/GPS location data. Unfortunately, there is no way to deny that one permission and still use the app, but Google may be thinking about changing that.
At a fireside chat at Google I/O, Google software engineer Dianne Hackborn admitted that the Android team has thought about that exact issue, and has considered changing the permissions model to give users more granular control. This would mean you could pick and choose which permissions to accept and which to deny.
Unfortunately, this is all just a hypothetical possibility, and there are no concrete plans to implement such a system anytime soon. There obviously would be logistical issues with such a system, because while Google may want to give users more control, it also doesn't want to cause instability in apps by blocking certain functionality.