Google files for patent to unlock your phone using a funny face
36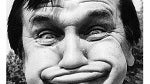 Filed in June of last year, Google's facial recognition software could be configured to allow users to make a predefined facial gesture to unlock the device.
One way it could work would be where the device asks for a different gesture each time, it could be a wink, moving the eyebrows or "tongue protrusion" (why don't they just call it "sticking out your tongue?").
Facial recognition is not new, Google introduced it as a feature with the new version of Android when the Samsung Galaxy Nexus made its debut. In short order, it was found that a picture could defeat the recognition software though. Google's fix to introduce a "liveness check" where the user was required to blink before it would read the face was also shown to be easily duped using only rudimentary skills.
The new patent is still pending, but the idea behind moving face gestures is that they are arguably more difficult to duplicate. We can see that position, but hopefully it would not be restricted to only minor facial expressions. The more whacky the face, the harder to duplicate, right?
source:
The Huffington Post