Google "doubling down" on enterprise
2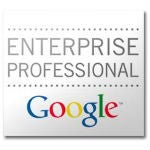 Just last month, we heard the news that
Android and iOS surpassed BlackBerry
in enterprise for the first time, and it sounds like Google isn't going to let that trend get away. The company is planning a big push in enterprise, and Google Enterprise Chief Amit Singh says that the company is planning to "double down" on enterprise products.
In an interview with AllThingsD, Singh said that 2012 was the year that Google Apps "broke the barrier and got large-scale customer adoption", and that there are still big new enterprise adopters that haven't been announced. Singh pointed to Microsoft as the real competitor in the space, because while Microsoft has seen market share drop in other categories, the company has "held on" to enterprise. But,
Singh pointed to Windows RT as a big problem
because it doesn't have support for legacy apps.
Singh is trying hard to change the perception of Google as the "inexpensive alternative", saying that while the company "used to compete on just cost", the products are getting more robust and able to compete on features as well. He said that Google's goal has been "to get to the 90 percent of users who don't need to have the most advanced features of Office", and that goal has been met well, and the
acquisition of QuickOffice
should get them the last 10 percent who need those extra features.
Overall, Singh says the plan is for Google to "double down on the Enterprise", and the theme for 2013 is "Work the way you live." So, it looks like the everywhere syncing, and mobile apps are going to be a big part of the strategy moving forward.