Google crowd-sources indoor navigation with new Android app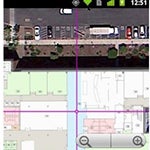 One of the largest obstacles to true "always there" navigation on your phone is
getting around indoors
. Yet the inside of large commercial venues is one of the places where mobile navigation is most needed. Some
new GPS chips
utilize recent Bluetooth standards in an attempt to address this, but that will require broad adoption of the standard in the malls, theaters, and stadiums around the world.
In the meantime, Google has decided to speed things up by releasing an app that can be utilized by owners of commercial buildings that have uploaded their own floor plans to Google Maps. Such individuals can download the new app onto an Android device, and then walk around to test how accurate indoor navigation is. The corrections provided by the owners, along with measurements on the strength of local wireless and cell networks, should let Google Maps dramatically improve its ability to navigate inside participating venues.
The restriction of the app to companies that have uploaded floor plans is most likely a privacy protection. Owners of some buildings (banks?) may not want such precise navigation freely available to all, so by restricting it to those who have been verified and uploaded plans of their own buildings Google can ensure that they aren't accidentally violating a private businesses privacy rights.
Those of you who watched Google's
Project Glass
demo video saw indoor navigation used by in their HUD glasses; this crowd-sourcing app is the sort of thing that will make such smooth and rapid indoor navigation possible in the not-too-distant future.
source:
Google Play Market
via
TechCrunch