Broadcom's new GPS chip will solve your indoor tracking woes, improve battery life
1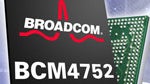 Broadcom, purveyors of
fine mobile device guts
, announced a new "location architecture" chip today, the BCM4752. For those of you wondering, location architecture is marketing speak for "GPS" chip. And while the GPS chip isn't usually considered one of the sexier parts of a smartphone, Broadcom is promising a host of improvements over current GPS chips.
The first will be indoor navigation. The chip will be able to utilize the new
low-power Bluetooth standard
to geolocate based on a signal received from 802.11ac beacons that can be set up indoors. Of course this is likely a chicken-and-egg problem where the beacons won't see widespread deployment until more phones support.
Not to worry, Broadcom has you covered there as well, indicating the new chip makes better use of your phones accelerometer, gyroscope, magnetometer, etc., to do a decent job of indoor navigation even without the new Bluetooth beacons. So you should be navigating around your local sports arena or super mall from the get go.
Broadcom is also claiming up to 50% savings in battery usage, which would be great considering how much juice GPS services suck down. In addition to using the Bluetooth 4.0 standard, a large part of this gain is due to offloading calculations from the CPU to the GPS chip, preventing those fancy multi-core CPUs from having to get up to speed just to track whether you are
near a local geofence
.
Finally, Broadcom has added NFC into the GPS chip. This would certainly make it easier to swap in an aftermarket battery than the solution
in the Galaxy Nexus
. It should also allow contactless sharing and payments to be implemented at a lower cost, meaning it should speed up the number of NFC-enabled smartphones we see shipped.
How soon will Broadcom's new chip be residing in an actual smartphone you can purchase? Broadcom says the chips are shipping as of today, so you can probably look forward to seeing the new chips in the hot and trendy handsets that ship in the fourth quarter of 2012.
e world.
source:
Broadcom
via
The Verge