If you used an Apple iPhone in the U.K., Google might be forced to pay you up to $926
8
Some Apple iPhone owners who visited the U.K. in 2011-12 could be owed up to £750 each (equivalent to $926 USD) by Google as the result of a massive representative action lawsuit (similar to a class-action suit in the states).
U.K. newspaper The Sun published a story today
stating that the lawsuit,
originally shot down by the U.K.'s High Court a year ago
, is back on again after three judges overturned last October's ruling. The suit alleges that Google bypassed privacy settings related to the mobile Safari browser between August 2011 and February 2012.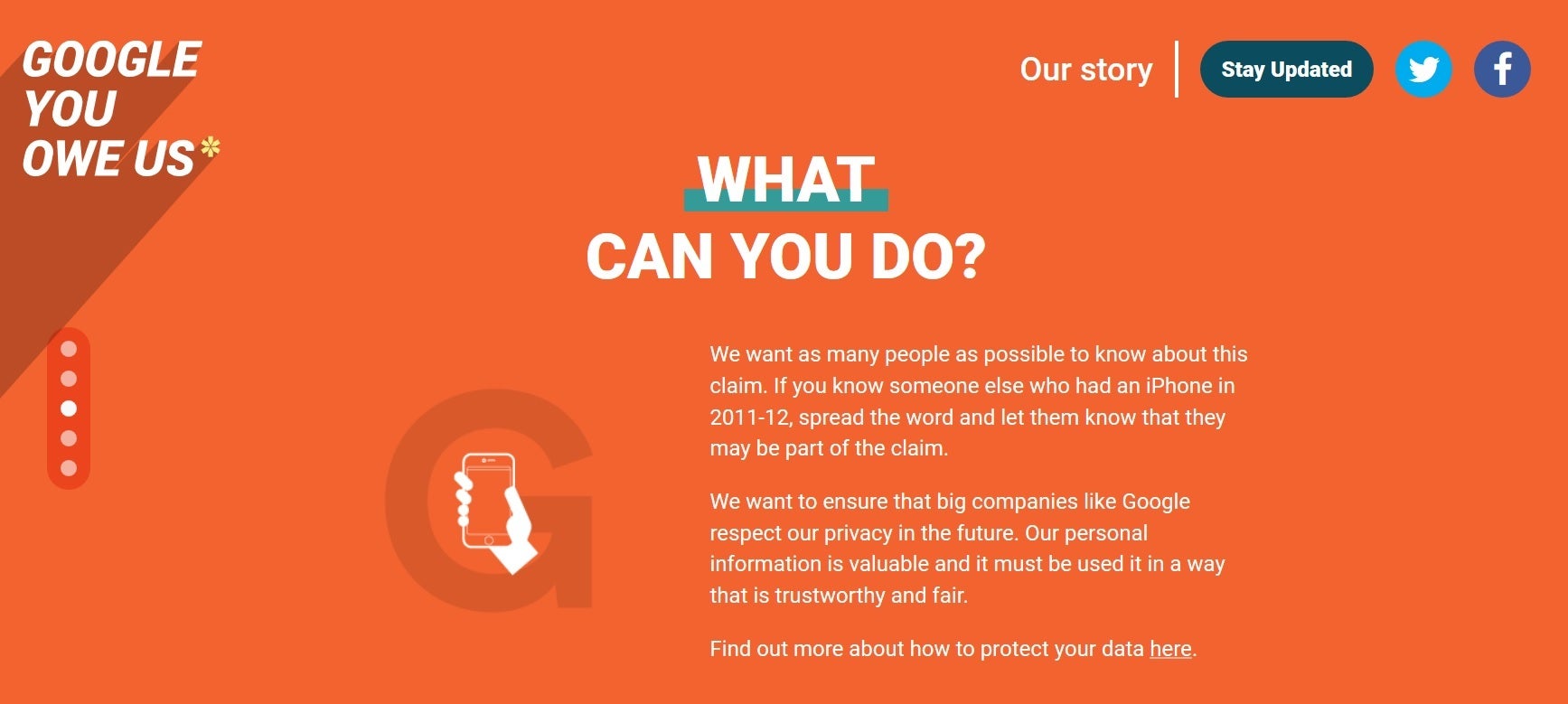 The plaintiffs' website explains what Apple iPhone users can do
According to the lawsuit,
filed by a group called Google, You Owe Us
, the search giant was able to obtain information about iPhone users including racial and ethnic data, physical affiliation and opinions, physical and mental health, sexuality, sexual interests, and social class. In addition, other information related to an iPhone user's financial information, geographic location and shopping habits were collected, aggregated anonymously with data collected from other iPhone owners and put into different groups such as "football lovers" or "current affairs enthusiasts." These groups were offered to advertisers as a way for them to market their products to a specific audience.
Google already settled a similar case in the U.S. for $39.5 million

While Google already paid $39.5 million in the U.S. to settle a similar legal action in the U.S., it is going to take more money to make this go away in the U.K. That's because the plaintiffs seek as much as £3.2 billion and say that as many as 5.4 million individuals were affected between 2011 and 2012. After the attorneys take their cut, U.K. iPhone users could receive, as we mentioned above, up to the equivalent of $926 each. To join the legal action, you do not need to have purchased your iPhone in the U.K. You can qualify to join the proceedings if you have an Apple ID and were in England and Wales at any time between June 1, 2011, and February 15, 2012. You also had to have an iPhone in your possession while in the U.K. and accessed the internet using the mobile Safari browser. The default browser settings must have remained enabled and you never opted-out of tracking and collation via Google's Ads preference manager. Once the courts decide that Google must pay the plaintiffs, or a settlement is reached, these questions will require more proof than just a yes or no reply.

"We believe that Google took millions of iPhone users' personal information illegally in 2011 and 2012. Google did this by bypassing default privacy settings on the iPhone's Safari browser. This has been called "the Safari Workaround". The workaround tracked internet browsing history, which Google then used to sell a targeted advertising service. Google makes huge amounts of money from selling targeted advertising. In 2016, they earned $80 billion from advertising alone...Our personal data is how Google makes money. When we use our phones, we trust that big companies like Google are using our data in a way that is fair and lawful. But in 2011-12, we believe Google tracked our internet searches and took our data illegally. Together, we can show the world's biggest companies are not above the law."-Google You Owe Us
Google says that it has requested permission to appeal the decision to reinstate the case with the Supreme Court. The company added in a statement that "Protecting the privacy and security of our users has always been our number one priority. This case relates to events that took place nearly a decade ago and that we addressed at the time. We believe it has no merit and should be dismissed."