Google could be working on Paranoid Android-like pie menu
22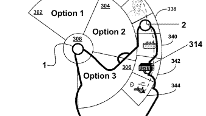 It looks like Google might be working on an improved gesture interface with pie controls for touchscreen devices, as the giant recently filed a patent application with the USPTO for a user interface with radial menus. Google's invention is a semi-circular context menu, which comes with several configurable items, which can be started via a simple gesture. This interface concept is similar to the ones, present in Samsung's Air Command, Paranoid Android's Pie Controls, and the Quick Controls in AOSP's browser.
However, there is a twist. The patent images reveal that Google's radial menus require the user to use two fingers to make a selection, whereas the said Air Command and Pie Controls menus could be used with a single finger (or stylus). In accordance with the images within the patent, one of the user's fingers acts as a primary anchor point, from where the pie menu appears. Another of the user's fingers stretches the menu itself and configures its overall size.
Once users define the size of the radial menu, they can make a selection by simply keeping their second finger over an option and sliding it further from the center of the pie menu. As seen on the images, a pop-up menu might appear, as well. This pop-up menu is significantly smaller than the pie menu and might consist of different segments, such as shortcuts for apps, buttons, check boxes, sliders, drop-down menus, combo boxes, and others, as well.
Although pie-styled controls are nothing new, bringing a second finger to the equation is something fresh. We are about to see if Google will implement this feature in some of its upcoming products.
source:
USPTO
via
Patent Bolt
,
AndroidGuys