Google and Microsoft call a patent lawsuit truce
11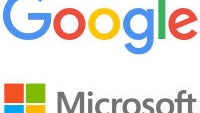 The technology patent wars have been cooling down recently and are nowhere near the awful mess that they were even just a few years ago. Apple under Tim Cook hasn't been quite as litigious, and Google has been gathering more defensive patents and patent partners. The latest cease-fire being reported is that Google and Microsoft have called a truce in their patent battles.
Google and Microsoft have settled a total of 18 lawsuits that had been ongoing in the US and Germany, including those involving Motorola. Not all patent battles between the two involve mobile technology, some cover WiFi, Xbox, and other Windows products. The terms of the deal were not revealed, but
Reuters
said a Microsoft spokesperson confirmed that the deal does not mean that there won't be any lawsuits in the future. However, Google has publicly in the past said it would only use its patent portfolio defensively.
The companies said in a joint statement that they have "agreed to collaborate on certain patent matters and anticipate working together in other areas in the future to benefit [their] customers."
We can only hope that this, combined with Apple and Samsung settling their
patent disputes
outside of the US last year, that we may be seeing the end of the mobile patent wars. Or, we may at least be seeing the last of the battles between major entities once Apple and Samsung finish the mess they've made in US courts. Of course, patent trolls are always around.