Google actively lobbying to thwart distracted driver legislation
9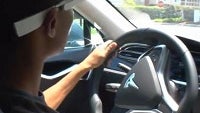 With the era of a commercially available Google Glass (and other Glasswear-like devices) getting closer and closer, there will be a new era of struggle between individuals, public safety, and government intervention.
Google Glass is leading that front, with thousands of developers testing and building products and services around the headsets. Last October, a
California woman was cited
for driving while wearing Glass. That citation was later overturned in court, but now states must grapple with the line that divides distraction, augmentation and operation.
Google is taking the approach to stop legislation geared toward halting the wearing of Glass. This is understandable since the product is not even commercially available yet. Google has hired some heavy hitters on the political scene to quell the bills that are pending in state legislatures across the country.
There is no doubt that distracted driving is a problem worth confronting, but it is not the epidemic that politicians would like to chime on about when compared to deaths related to say, tobacco. Google advises its developers to abide by the laws when using Glass, and "even when you're following the law, don't hurt yourself or others by failing to pay attention to the road."
Maryland legislator Benjamin Kramer sees it more simply. Since it is difficult or impossible to really tell if Glass is in use when a driver is pulled over, "the way to get around it is just to prohibit them altogether." Google disagrees with that notion and has hired lobbyists in at least three states, Illinois, Delaware and Missouri, to stop such proposals.
source:
Reuters