Google 'actively exploring' market for smartwatch, could make its own
19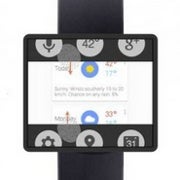 Google is
"actively exploring"
the possibility of making a smartwatch, and that would be huge news if true. The rumor comes from an insider's whispers shared by Business Insider
More specifically, Google is looking for the possible ways of marketing such a smartwatch.
Now, that's where it starts to get murky - there is no information on just what kind of a smartwatch that would be, what would be the form factor, and would it run on some version of Android. While those are all open questions, it seems that what bothers Google most first is the way to market the device before thinking or sharing the technical details.
And we've seen that there is a tremendous interest in a smartwatch.
Pebble
, a Bluetooth smartwatch, raised record funds of more than $10 million on Kicstarter and is now shipping. Apple is also allegedly looking into the possibility of making a smartwatch of its own.
And of course we've seen this patent of a flip-out smartwatch filed by Google earlier on.
Will it arrive to market? Too hard to tell right now, but we are definitely excited by the possibility. How about you? What would you like to see in a smartwatch?
source:
Business Insider