Google Translate for Android updated, now faster and with more language support
6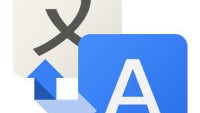 Google Translate has a ton of great features and it is getting better. Google has announced that an update is rolling out of the Android Google Translate, which will make the app faster, as well as adding gesture controls, even more language support, and generally a sleeker new look. In all, Google says it should be easier to have a conversation using the app.
Obviously, the top of the list for new features is faster translations, which always makes things easier. Additionally, the app now supports a rotation gesture, so when you have your phone in portrait orientation, you'll see the conversation view, but rotating to landscape zooms in on the active language to make it easier to communicate. The example Google gives is ordering in a restaurant, although admittedly, we've never had a problem with the old "point at the menu" move when traveling in a non-english speaking country.
The added language support is pretty nice, and quite varied as well. The update adds handwriting support for Hebrew, Greek, Javanese, and Esperanto, as well as adding more support for translating text captured in a photo in Malay and Ukrainian.
The update will be rolling out today and tomorrow, so you may not get it right away.
Download: Google Translate (
Android
)
Recommended Stories