Google Spaces app looks to make group chats on any topic
2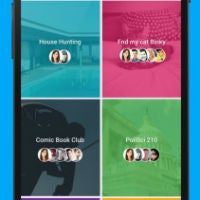 Google appears to have something of a compulsion when it comes to messaging apps. The company has had a long line of apps for messaging which it had recently boiled down to essentially just Hangouts. But, now that lineup looks like it is going to expand. Hangouts has already been joined by Messenger and there are rumors of a
chatbot powered messenger
, and now Google is testing an app called Spaces.
Spaces is an app designed to quickly and easily let you create a group chat around a specific topic or piece of content. This means you can create a group chat for a photo, video, web page, event, or any topic as specific or general as you might want. Once you create the group chat, you can invite people from your contact list to join, and anyone in the chat can easily share links or media. It is unclear how adding people goes from there, like if people you've added can also add people, or if anyone could join.
The idea basically looks like a way for you to organize conversations before they start. So, instead of having a group conversation that stays open and meanders from topic to topic (whether or not someone in that group wants to hear about the new topic), you start with the topic and bring in people. When you want to go to another topic, you start another chat. Ultimately, you might end up with something like Google+ Collections for chat topics.
Spaces is in a non-public beta for Android right now. There's no word on when the app might be released. Does it sound like something you might want to use?