Google Play revenue on the rise, App Store still well in the lead
9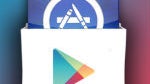 It's been a pretty slow road for the Google Play Store. Compared to the speed at which Android has taken over the market, the Play Store has lagged well behind in proving that Android users are willing to pay for apps. But, the numbers are moving in the right direction with Google Play revenue on the rise. Apple's App Store is still quite far in the lead in terms of revenue, but the reasoning may not be what you'd expect.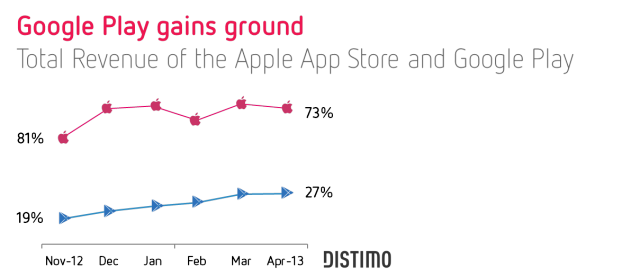 The numbers come from Distimo, which is an analytics firm that has tracked over 3 billion downloads from various app stores. According to its statistics, Google Play has gained significant ground on Apple's App Store in the past 6 months. As of November 2012, Google Play accounted for 19% of the combined app revenue between the platforms, but as of April 2013 that number had risen to 27%.
Distimo does some impressive granular analytics for various apps and games as well, finding that Final Fantasy III drew 73% of its April revenues from Google Play, while The Simpsons: Tapped Out was almost the mirror image, pulling 79% of its April revenues from Apple's App Store. Maybe more interesting is that WhatsApp made more in revenue in 3 European countries through Google Play than through the App Store despite the app being free on Android and paid on iOS.
In total, the top 200 apps in Google Play earned $1.1 million per day in April, while the top 200 apps in the App Store pulled in 4.6 times as much at $5.1 million per day. This granular tracking of individual apps led Distimo to find that a big reason for why Google Play is lagging behind Apple in terms of revenue is not that Android users are less willing to pay for apps or that the majority of apps are free, but that many developers still only release apps on iOS, which is effectively limiting their potential revenue.