Google Play now makes more in gaming revenue than Nintendo or Sony
22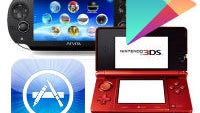 We've seen a couple of reports recently that show the Google Play Store
growing very quickly
in terms of revenue; and the newest report from App Annie says that Google Play's gaming revenue has finally surpassed the combined revenue of the Nintendo DS and Sony PS Vita. Of course, Google is still well behind Apple in this race. In fact, Google, Nintendo, and Sony combined couldn't match the App Store games revenue.
The data reiterates the fact that both Google Play and Apple's App Store rely heavily on games for revenue. While games make up about 40% of downloads in each store, Google Play generates about 80% of its revenue from games, and Apple's App Store earns just under 75% of its revenue from games.
As far as actual revenue, the data doesn't offer actual numbers, just comparisons to what Apple's App Store earned in Q2 of 2012. For Q2 2013, the App Store earned about 20% more year-on-year, while Google Play earned a bit over half of what Apple did last year. Apple still has a fairly good spread of revenue with Asia-Pacific and North America leading the way, and Western Europe tossing in a bit. Google Play is still seeing most of its gaming revenue coming from Asia-Pacific, specifically South Korea and Japan.