Google Play Store sale moves on to books, magazines, and movies
3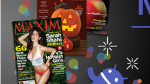 The sale has finally made its way through the entirety of the Google Play Store. It started with the announcement that the Store had hit
25 billion downloads
, then we saw
apps and music
go on sale. Now, the sale has extended to movies, books, and magazines as well.
The star of these sales is the books, we'd say. There are now 25 "Modern Classics" for just 25 cents each. The books are also labeled as "banned books", which are always fun. We'd suggest
Boy's Life
by Robert R McCammon,
Essays in Humanism
by Albert Einstein,
Being and Nothingness
by Jean-Paul Sartre, or
The Werewolf of Paris
by Guy Endore. Not bad that you could get all of those for $1 (plus tax).
The sale sections of magazines and movies are a bit strange, because it's hard to see where the actual "sale" is. The magazine section shows the top 25 selling issues, and each are $1.99, but that seems like regular price. Maybe we don't wander into the magazine section enough. The same goes for the movie section, which shows 25 titles that range in price from $3.99 SD rentals to $13.99 HD purchases, but again the savings here aren't readily apparent. Although, $7.99 to own the HD versions of Superbad or Pineapple Express sounds pretty reasonable.