Google Play Store app updated, brings "Recently Updated" section and improved notifications
9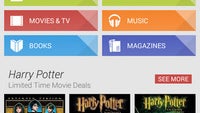 There's a new version of the Google Play store app rolling out as we write these very lines, and no, this isn't just your typical maintenance update. Some new and welcome improvements have been added to the application's feature set, such as the "Recently Updated" section present in the "My Apps" category. As the name implies, apps that have been recently updated are listed there, which may be useful for users who have a ton of applications installed on their device. Also, update notifications are handled differently. Instead of getting a dozen of them in the notification panel after a successful update, all update notifications are combined into one single notification.
Other changes found in Google Play 4.3.10 aren't that significant, but are still welcome nonetheless. While browsing through the Books catalog, for example, users are presented with both the full list and the discount prices of the title they're checking out. Also, downloading a game that's compatible with Google Play Games services may trigger a notification asking the user if they want to download the
Google Play Games application
as well.
That's pretty much all for now as the rest of the changes include nothing but minor UI tweaks – rearranged buttons, different graphics placement and the likes. If the new version of the Google Play app hasn't reached your Android smartphone or tablet yet, expect it to land over the coming days.