Google Pixel XL (HTC Marlin) checks through Geekbench
32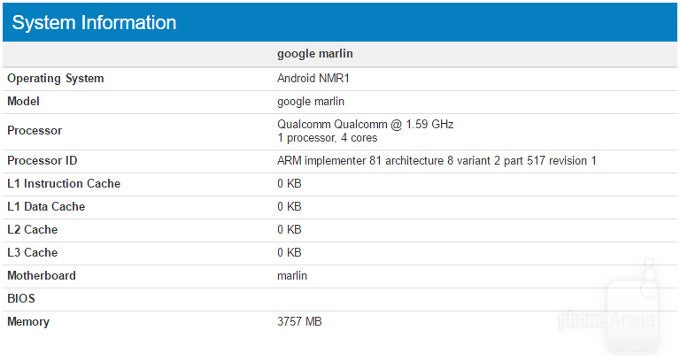 While LG and Huawei respectively took care of last year's
Nexus 5X
and
Nexus 6P
, HTC has been drafted in to manufacture this year's models. As it transpires,
they won't actually be Nexus devices anymore
, since the Big G has reportedly decided on a rebrand. Instead, the smaller offering — Sailfish — is expected to be called the Google Pixel, while the more sizable Marlin phablet will apparently be given the Google Pixel XL moniker. Substantiated by yet another benchmark sighting, it seems the latter will almost certainly include the Snapdragon 820 and 4 gigs of RAM.
Spotted on Geekbench, the Snapdragon 820 and 4 GB RAM combination has been the weapon of choice through many of this year's high-profile releases. From some variants of the
Samsung Galaxy S7
/
S7 edge
to the
HTC 10
to the
OnePlus 3
, it has become the de facto gold standard of the flagship underbelly. While
a previous leak of the Pixel XL / Marlin's
specs has been offered by AnTuTu before now, the new Geekbench stats add a welcome dab of additional leverage.
The Operating system is noted as Android NMR1, which, simply put, refers to latest flavor of Android 7.0 Nougat. This is not a surprise since the Pixel and Pixel XL will take the torch from the Nexus smartphone line, which regularly debuts with the newest Android out of the box. It won't be the first to launch with Nougat in tow, however;
the imminent LG V20 will claim this honor
.
Since we got word of the new naming scheme, most of the subsequent information has pertained the Pixel XL. Late last week, we heard
that it could bundle an upgraded version
of the rear-facing Sony camera sensor that brought much respectability to the Nexus line's point-and-shoot credentials. After a fleet of mostly abject photography experiences through previous Nexus efforts, the 5X and 6P really excelled in this regard, and fans will be hoping that the new Pixel duo can further improve upon last year's outing.
If you want to stay abreast of all the latest Sailfish and Marlin-related info, be sure bookmark
our detailed rumor round-up
. In the meantime, let us know if you're looking forward to the upcoming duo in the comments.
Recommended Stories