Google Pixel 3 and 3 XL prices and specs leak out in Canada
21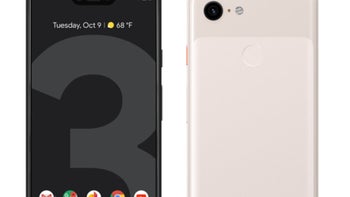 There are still three days left until Google will announce its
Pixel 3
and
Pixel 3 XL
smartphones, and yet there seem to be few (if any) mysteries left to solve about the handsets. That's because, following an impressive number of
leaks
, we've
seen the Pixel 3 and 3 XL
multiple times, while also hearing a ton of details about their features. Nevertheless, there's a new leak that certainly deserves our attention, this time coming from Canadian carrier Freedom Mobile.
For only several hours, yesterday, Freedom Mobile inadvertently listed both upcoming Google phones on its official website, sharing their prices, color variants, and specs. Here's how much the handsets will seemingly cost up north (prices are obviously in Canadian dollars):
Pixel 3 64 GB: 999 CAD
Pixel 3 128 GB: 1,129 CAD
Pixel 3XL 64 GB: 1,129 CAD
Pixel 3XL 128 GB: 1,259 CAD
Now, 999 CAD is about 771 US dollars. But we're not expecting the Pixel 3 to start at this exact price Stateside, because most phones are a bit more expensive in Canada than in the US. For example, Freedom Mobile currently asks 900 CAD for a Pixel 2 64 GB - this means 695 US dollars, and yet the Pixel 2 64 GB costs just $649 in the US.
It's likely that prices for the Pixel 3 will start at $700 Stateside, reaching nearly $1,000 in the case of Pixel 3 XL 128 GB. Both new smartphones seem to have
three color variants
(black, white, and
pink
), although the Pixel 3 XL 128 GB was listed at Freedom Mobile in black and white only.
The Google Pixel 3 and Pixel 3 XL will have many common features and specs, including: Android 9 Pie, Qualcomm Snapdragon 845 processor, 4 GB of RAM, dust- and water-resistance (IP68), dual 8 MP front-facing camera, and single 12 MP rear camera. But the phones differ in size, weight, screen diagonal and resolution, and battery capacity. While the Pixel 3 sports a 5.5-inch display with 1080 x 2160 pixels and packs a 2915 mAh battery, the Pixel 3 XL offers a 6.3-inch notched display with 1440 x 2880 pixels and a 3430 mAh battery.
Google's new Pixel phones could be
available for pre-order
immediately after their announcement. Thus, if you think you'll want to buy any of the two, you may want to get your credit card ready for next week, as
October 9 is the day
when the next-gen Google smartphones will be fully unveiled.