Google Pixel 2 vs iPhone 8 vs Galaxy Note 8 vs LG V30: size comparison
29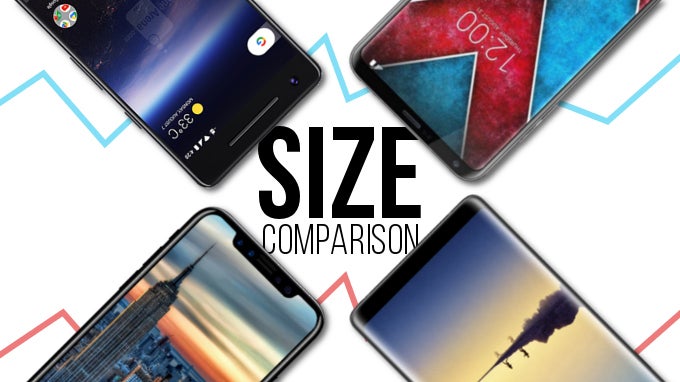 The Google
Pixel 2
, the Apple
iPhone 8
, the Samsung
Galaxy Note 8
and the LG V30, the four proverbial horsemen of the smartphone apocalypse, are coming soon, and leaks and rumors have already given us a ton of juicy details.
So we did not just sit around and wait: we used all that information to come up with a size comparison that shows how those full-screen displays compare between each other (and how the
Pixel
compares to all of them with its 16:9 screen).
In order to make this size comparison, we had to wait for what seemed like the most reliable leaks. Here is the sizes that they gave us:
*Information based on leaks.
With no further ado, here is our size comparison between the Google Pixel 2 vs Apple iPhone 8 vs Samsung Galaxy Note 8 vs LG V30:
There is one thing that is immediately obvious - and it's obvious, but it's still shocking to actually see it on a picture - the screen on the Pixel 2 is so much smaller than all the rest.
For all else, the Note 8 and V30 stand out as the widest of the bunch and hardest to handle with a single hand, but they have the larger displays as well. The iPhone 8 clearly has the biggest screen-to-body ratio, but it also comes with a weird wedge that gives its screen a very peculiar shape. And the Pixel 2 makes up for the large bezels with dual front firing speakers, but is that enough?
So... which one of these four bad boys are you planning on buying this fall?