Google Nexus 7 to get OnLive game controller support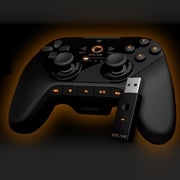 Are you into mobile gaming? Then you might have heard of
OnLive
– the cloud-based service that allows you to play high-quality video games on a smartphone or a tablet. What makes this service special is that all the computing is offloaded to OnLive's servers, while a video of the action is being streamed straight to your mobile device.
OnLive also offers a $50 gaming controller, which gets along well with a number of smartphones and tablets. What's more is that the controller will soon be compatible with the
Google Nexus 7
tablet, meaning that for a total of $250, you will basically have a hardcore mobile gaming setup on your hands. Here is a statement from OnLive on the matter:
"We don't have support out for [the Google Nexus 7 tablet] yet, but we hope to shortly."
The list of games available on OnLive includes Homefront, Civilization V, Assasin's Creed Revelations, Dirt 3, and more. And keep in mind that these are not mere Android ports, rather the full-fledged versions of the games. Is anyone tempted to get an OnLive controller for their smartphone or tablet? Let us know by dropping a comment below.