Google Nexus 7 tablet leaks out: internal training document confirms all your hopes
66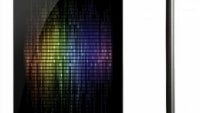 Ladies and gents, the
Google Nexus 7
is just days away from its launch, it will be made by Asus and it will look just as you see on the picture below. At least according to a training document Gizmodo Australia obtained days before the 7-inch quad-core tablet's launch. And that document - even though the picture from it looks real - could turn out to be a fake one, so keep that healthy shade of doubt until the official announcement.
If true, though, the Nexus 7, as it's referred to in the training document, will get a release date in July, and will pack a powerful quad-core Tegra 3 chip. Also, it will run on
Android Jelly Bean
, the next big redefinition of Android that could bump up the version number to Android 4.1 or Android 5.
First, let's look at the technical details, as they appear in that precious leaked document:
7-inch 1280×800 IPS display with 178-degree viewing angle
Android 4.1 Jelly Bean
1.3GHz quad-core Tegra 3 chip
nVidia GeForce 12-core GPU
1GB of RAM
8GB or 16GB of internal storage
1.2MP front-facing camera, no rear camera
9-hour battery life
Wi-Fi a/b/g/n
NFC with Google Wallet
The best thing about the Nexus 7 tablet?
Its price will be a kicker
- the 8 gig version will set you back $199, while the 16 gig model will cost $249.
The second best thing? Google is allegedly taking over the
software updates
on this, so you should expect getting the next version of Android with little or no delay.
The official unveiling should happen in just two days at the 2012 Google I/O kicking off June 27th in San Francisco, so stay tuned - after Apple played its WWDC card and Microsoft went all Windows Phone at its dev summit, you don't want to miss Google's response now, do you?