Google Nexus 7 gets overclocked to 2GHz, rocks the benchmarks
17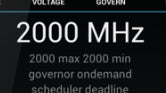 In case you thought that
overclocking the Google Nexus 7 to 1.64GHz
was impressive, just wait until we tell you what XDA Developers member
Clemsyn
has achieved. By using a custom kernel, he managed to push the tablet's quad-core Tegra 3 chip to the astonishing 2.0GHz, which is 700MHz beyond what the device is limited to with its stock software.
And its maximum clock speed is limited for a good reason since things can get pretty hot once the hack is performed, not to mention that stability is an issue as well. That is why the software used to reach the 2.0GHz mark is not publicly available, although it might get posted on XDA Developers should a more stable version be compiled. On the other hand, the overclocked
Google Nexus 7
was capable of reaching over 8000 points on Quadrant, which is a score that puts even the high-end Androids to shame.
Feeling like hacking your Google Nexus 7 too? Perhaps you shouldn't as doing so voids its warranty and might lead to permanent damage. In case you still want to do it anyway, head over to the XDA Developers forum and read about getting the tablet to run at the less-aggressive 1.8GHz. A link is provided below.
Recommended Stories