Google Nexus 7 U.K. launch penciled in for July 19th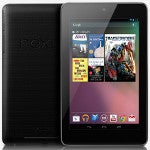 On Saturday, we told you that the pre-order page for the Google Nexus 7 tablet on Staple's web site
revealed a launch date between July 12th and July 17th for the 7 inch tablet
. How about the U.K.? Retailer Currys shows the 16GB variant of the tablet available for pre-order for £199.99 ($309.48)
with an expected launch date of July 19th
, which is this coming Thursday. And with the
Canadian launch expected July 14th
, we have a decent consensus showing a range of July 12th through July 19th.
both models will ship in 2 to 3 weeks
. That would be after the July 19th date listed by Currys, and widens the possible U.K. launch of the tablet out to a range of July 22nd to July 29th.
Until we get an official date from Google, let's just say that the Google Nexus 7 will launch in the U.S., Canada and the U.K.
before the end of this month
. This way, short of a complete breakdown on ASUS' part, everyone will be happy when they receive their pre-order or buy it when it goes on sale.
source:
Currys
via
IBT