Best Buy and Future Shop also begin Nexus 7 pre-orders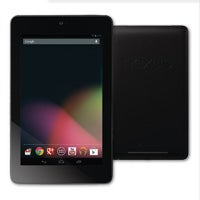 In addition to
GameStop
, Staples and Google itself, Best Buy and its Canadian counterpart, Future Shop, have also started to accept pre-order for Google's new 7-inch slate. Interestingly, the
Nexus 7
is listed at
$259.99 for the 16 GB
version with a link to Best Buy's price match guarantee right underneath it. We're not sure why you would opt to pay $10 more for the device, unless perhaps you have some Reward Zone certificates to burn through.
What we know for sure is this slab will feature a 7-inch display,
1.3
GHz quad-core Tegra 3, 1 GB of RAM, and Android 4.1 Jelly Bean and that you can slap down $250 or so of your hard earned money right now and expect a tablet at your door sometime between 'Julyish' and 'Augustish'. Let's hope Staples is the winner on this one.