Google Nexus 5 review Q&A: we answer your questions
22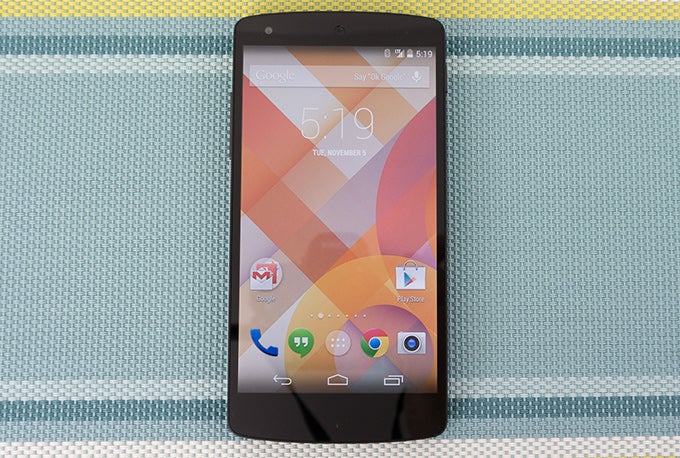 Last week, we asked from you to ask us anything you wanted to know about the newly-launched
Google Nexus 5
smartphone, and now, the time has come for us to provide you with some answers. Here we go:
x7black7x asks:
why didn't google put some features of moto x here on their google nexus 5 it would have been great!? like active notifications it's quite useful?
The Google Nexus 5, as all Nexus smartphones before it, represents Android in its purest, most up-to-date form. Its purpose isn't to show off Google's OS as a whole, not to stand out with one or two specific software features. Besides, if a feature isn't part of stock Android, then it doesn't belong on a Nexus device. Of course, you might be able to get the functionality with the help of an app made for the purpose.
abdane asks:
Is Camera really as bad as user reviews say ? i heard there will be an update to fix it ? Battery and speaker are bad ?
The main camera on the Google Nexus 5 performs well when it comes to image quality. It isn't the best out there, of course, but chances are it will beat most smartphones priced similarly, around the $350 mark. The camera UI leaves room for improvement, however. A software update is said to be in the works, meant to improve the Nexus 5 camera to certain extent. As for the battery life, the phone is an average performer at best and heavy users will need to recharge daily. You might want to check our

Nexus 5 battery benchmark results

for more details. The single speaker on the Nexus 5 is kind of disappointing and it sounds pretty bad on the loudest setting.
sswain asks:
What's the max screen brightness in cd/m2 (nits)? How does it compare to the LG G2 and the iphone 5s?
We measured the screen on the Google Nexus 5 and it reached 485 nits, which is quite good. In comparison, the

LG G2

and the

iPhone 5s

got us 438 and 587 nits respectively. Our

benchmarks page

might be worth checking if you want to learn more on the matter.
devil888 Asks:
What do you think the battery life would be like with moderate use and no LTE? As I don/t have LTE in my country, do you think it could last the whole day?
Don't expect much out of its 2300mAh battery. With moderate use, a Google Nexus 5 will last through a day. It likely won't make it through the second day, however.
Abhaa94 asks:
I heard that nexus 5 has wifi issues on connecting, and also like dropping wifi signals as compare to the other smartphones.
We have not experienced any Wi-Fi issues with any of our Nexus 5 units.
Filly asks:
How are the viewing angles (vertical, horizontal and most importanly diagonal tilt?)
They are okay. Not as good as the viewing angles on the iPhone 5s or the Galaxy S4, for example, but still more than acceptable.
haney.alsaaidy asks:
is it's touch responsiveness improved over nexus 4 ? for example when you drag the element trailing behind your finger.
Same banana. Technically, there could be some improvement, but we don't notice any increase in responsiveness. Not that they are bad. Quite the opposite: the Nexus 4 and Nexus 5 are both very responsive to touchscreen input.
MarioBJ asks:
the Nexus 5 support USB OTG and MHL??
USB on-the-go is supported on the Google Nexus 5. MHL is not available. Instead, the Nexus 5 uses SlimPort for connecting to an HDTV.
Samir_Maric asks:
Why nexus 5's snapdragon 800 benchmark is lower than galaxy s4's snapdragon 600 benchmark ??? its confusing???
rishabh_2795 asks:
What is the charge time for a full cycle from 0-100%? SD800 has quickcharge v2 which is 35% fast in charging the device compared to quickcharge v1 enabled devices like HTC one,S4 and nexus 5 (SD600 and S4pro). My friend's s4 takes 1 hour and 30-45 mins to charge fully. So how does N5 fare against these devices in charge time?
We will be testing its charge time in the near future. Keep an eye on our

benchmarks page

for more information.
s8ntrick asks:
Can you change which home page you want to be your home screen? Also, if you add widgets to your home screens that are full screen, how can you access the Settings menu normally accessed by a long press?
jacko1977 asks:
does it have folders in the app draw yet if not when :(
No, the home button always takes you to the first home screen – the home screen on the very left. (In stock Android 4.3, the middle screen used to be your home.) Even if there's a 4 by 4 widget on screen, occupying all available space, there is still enough room right under the bottom edge of the widget for one to long press and access the settings menu. And no, you cannot make folders in your app drawer.
Chris_Bakke asks:
The Play Store says that the 16 GB version is only available for Sprint. Can I buy a 32 GB from the Play Store and activate it through Sprint?
Yes, a 32GB Google Nexus 5 model sold via Google Play can be activated on Sprint.
mclifford81 asks:
Is this phone a step above the LG G2 or a step below? As far as specs go it's almost identical minus the camera and kit kat.
Depends on what one's priorities are. The Google Nexus 5 is the best value-for-money smartphone you can find off contract. Also, timely updates are always guaranteed with a Nexus device. The LG G2 is slightly superior from a technical standpoint, on the other hand, since it has a larger screen, bigger battery, camera with more resolution, and some neat software tweaks. Perhaps you can check out our

comparison between the Google Nexus 5 and the LG G2.
procoder asks:
if i buy US version of Nexus 5 D820 will it have problem working in india?? GSM bands are same..we dont have any LTE network?
Yes, just put in your SIM card and you're good to go.
alex12 asks:
will the american version of the nexus 5 get software updates if in europe and will the mobile network work in europe
You will still get your software updates on time even if you're not using the Nexus 5 within the US. HSPA+ connectivity will work, but LTE availability depends on what LTE band is being used by your carrier, and whether the Nexus 5 supports it. The US Google Nexus 5 (model D820) supports LTE bands 1,2,4,5,17,19,25,26, and 41.
duder52 asks:
What are the sar ratings for this?
Model LG D821: 0.486W/kg at the ear and 0.476W/kg when worn at the body. Model LG D820: 0.810W/kg at the ear and 0.998W/kg when worn at the body.
GrapeEyes asks:
Hello PhoneArena Crew :) Why do you think google didn't put a sd card slot on the Nexus 5? and why didn't they do a cool presentation of it like Samsung did the Note 3? Why did Google even bother with a 16GB version? Don't you think times have changed that much with people uploaded movies etc... onto their mobile phones that the basic internal storage should be 64GB
Google does not like microSD cards and that's nothing new. Just like the Nexus 5, the Nexus 4 and Galaxy Nexus didn't have a slot for microSD cards, and neither do the Nexus 7 and Nexus 10 tablets. But that's not necessarily a bad thing. According to Google itself, it is easier for the average user as the experience is less confusing. Also, it is more efficient to have apps and media stored on an internal piece of memory, not on a removable storage card. There's a number of technical reasons as well, ensuring that less things with the OS can go wrong if no microSD card is used for apps and stuff. Sadly, that does make it more expensive to own a smartphone with extra storage. As for your other question, 16GB are enough for some users, and producing such Nexus 5 model is a few bucks cheaper. But yeah, it might have been nice having a 64GB Nexus 5 model as well for those who just can't live without having the Pink Floyd disography available with them at all times.
andrejx asks:
what is the sound output on the nexus 5 compared to other devices? not asking about the speaker but the through headphones/earphones quality of sound. the audio chip in s800 SoC is said to be really bad compared to Wolfson's. And I guess is doesnt have an in built amplifier or "improved" audio output like note 3 or something? and, why is there no multiwindow option in 4.4. or even an improved multitasking like in g2? does anyone think It will come with an update or something? So many questions :D
Yup, lots of questions. Let's start with audio: we'd say it sounds okay, but it depends on what headphones you're using. The Nexus 5 might have troubles shaking a pair of cans effectively. Technically, every phone has a built-in audio amplifier – some are good, others are better. The Nexus 5, in particular, uses a Qualcomm WCD9320 audio codec. As for your other question, it is up to Google to decide what features go into every new Android release. If a Multi Window (or any other) feature would benefit just a negligible number of users, then there's little point in investing time and resources into developing it.
cenk1303 asks:
Hi..Have you experienced any heat issue while a program or game was running?
varuntis1993 asks:
Hey can you pls install cpu z and tell the temperature of the battery while playing games such as the dead trigger 2 and asphalt 8 when the charger is plugged in and when it is not with game settings to high?
No issues yet. The battery sensor reads 35.9 degrees Celsius after 10 minutes of Asphalt 8 with the charger plugged in. The phone feels a little warm. Not a biggie.
SHAFEEQ asks:
I Heard somebody saying Nexus 5 will knock out Iphone 5s in benchmark test , it ain't happen why .actually i don't understand how the iphone is scoring more on all benchmark test with just a duel core processor and 1 GB ram and the other contenders have 3 GB ram and octa core Processors , some dip head told me it's because of the perfect optimization. anyone know the exact reason..?
Hardware specifications aren't everything. Software has a key role as well. If a phone's OS is light-weight and runs effectively, then the phone will perform great overall. The iPhone 5s, for example, blows everything away when it comes to browser benchmarks – its software is simply super efficient. Then there's graphics performance. With its 1136 by 640 pixel screen, the GPU on the iPhone 5s has much less pixels to drive than, let's say, the GPU on the Nexus 5, which has to handle more than twice as many pixels. Another factor you have to consider is that the benchmarks don't care how much storage or RAM a smartphone has. They take into account how fast data can be read from and written onto that memory. Ultimately, it is better to pay less attention to benchmarks as they can be misleading.
bad_omen asks:
can anyone tell me why is the nexus 5 is so cheap ???? I think the nexus 5 is cheap because it's made of low quality material, is that true???
Google is selling the Nexus 5 at a low price because it can afford it and because doing so has its benefits in the long run. You see, the smartphone itself is generating little profit. But at the same time, Google is making it easier for anyone, consumers and developers alike, to get their hands on an affordable Android smartphone that is actually really, really good. Note that outside of the US and out of the Play Store, the Nexus 5 is not so cheap. Of course, the fact that the Nexus 5 is made of plastic also helps.
sinple asks:
Let's say I play asphalt8 then I toggle out to reply sms and then toggle back to game. Would asphalt resume or restart
It will resume. We tested it.
hrh_fourtyseven asks:
what about infrared? can use it as a remote control ?
No, the Google Nexus 5 does not have an infra-red emitter (aka IR blaster) so it can't control your TV, air conditioner, or stereo via infrared.