Google Maps will give you suggestions for parking while you're still in transit
2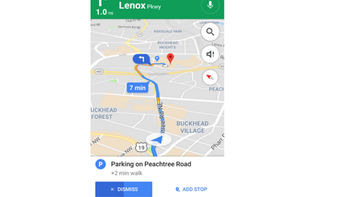 Some of you Google Maps users might have noticed that the app is giving you recommendations about where to park once you reach your destination, while you are still driving. While it isn't clear whether this is a feature that is still being tested, personally this is something that yours truly has yet to see on the app. The parking recommendations reportedly pop up about halfway through the trip, and it is quickly dismissed if no action is taken.
This new parking notification, which you can see in the image at the top of this article, allows you to dismiss the suggestion, or have Google Maps direct you to the parking spot. The notification also gives you an estimate of how it long it will take you to walk from the parking spot to your destination.
There is nothing in the settings that allow Google Maps users to enable or disable this feature. Last year, Google added a different "find parking" option in 25 U.S. markets that reveals parking lots and garages near your destination once you type in that address. After select a parking spot, Google Maps navigates you to that spot and includes walking directions from the car to the ultimate destination.
Recommended Stories