Samsung Galaxy S8/S8+, Galaxy S9/S9+ and Galaxy Note 8 now receiving Google Lens (camera version)
11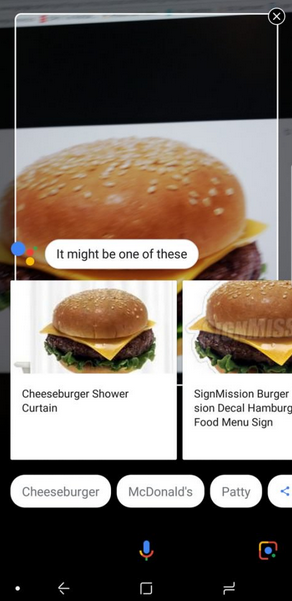 The camera version of Google Lens knows a burger when it sees one
Google Lens is a feature that uses AI to turn your pictures or camera (depending on your phone) into a search tool. Found originally on the Pixel series, there are actually two versions. There is the Google Lens that was
pushed out by Google to all Android handsets with the Google Photos app
. This version of Google Lens allow users to look at pictures already taken and see more information about the subject of that photo. Thanks to AI, Google Lens can identify a picture of the Mona Lisa, or the Empire State Building, and tell you all about them.
The second, and vastly superior version of Google Lens uses a handset's camera to initiate the search. This allows the user to point his camera at landmarks, famous buildings, works of arts, flowers, hamburgers and more, all in real time. If Google Lens can figure out what you have in the viewfinder, it will give you links to other apps (like YouTube or Google) so that you can learn more about the subject of your camera's affection. Aim your snapper at a business card, and the pertinent information is added to your contacts. Google has promised that
this variant of Lens will eventually be sent out to flagship Android models
from manufacturers like Samsung, LG, Motorola, Sony, Huawei, and Nokia (HMD). It also will be available on the Apple iPhone.
Google has apparently started the process of rolling out the camera-based Lens to Android flagships. The feature is now found on the
Samsung Galaxy S8
,
Galaxy S8+
,
Galaxy S9
,
Galaxy S9+
and the
Galaxy Note 8
. To access it, open up Google Assistant and tap the Google Lens logo in the bottom right corner.
source:
DroidLife