Google India creates touching reunion story to promote desktop and mobile search
15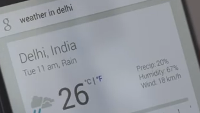 Two friends who haven't seen each other in years, both in different countries, are the subject of a touching promotional video made by Google India. Both men are reminded of their friendship as the birthday of one of them approaches and a picture is found of the pair back in the day. While neither man is tech savvy, each has an adult grandchild who is knowledgeable enough about tech to own a
Nexus 4
handset (what are the odds?).
While some of the searching to arrange the reunion is handled from a desktop, some of it is achieved using the aforementioned Nexus handsets. Some of the video is designed to show you how specific Google searches can be, such as when the granddaughter types in "
park with ancient gate in lahore
" to reference something her granddad had said about his long time best friend.
Well, we don't want to spoil the end of this tear-jerker but as you probably figured out by now the two friends are reunited thanks to Google, with the Nexus 4 doing yeoman's work behind the scenes. And don't tell us that you weren't emotionally invested in the video. We could see that tear coming from your eye.
source:
GoogleIndia