Google Glass update XE16 (aka KitKat) now rolling out
1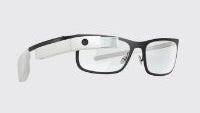 Just yesterday, Google announced that "later this week" the update that would bring Google Glass to Android 4.4 KitKat would begin rolling out. While that statement was literally correct, one would tend to assume that said update wouldn't start rolling out one day after such an announcement. But, that is exactly what is happening right now.
We gave a
breakdown of the update
yesterday, but the real star of the show is something that we didn't get into much before. With the XE16 update (aka KitKat) Google Glass supports Bluetooth 4.0 Low Energy for the first time. There needs to be some testing to see exactly how big of a difference this will make, but it should lead to much better battery life for Glass users. The battery had been one of the biggest problems with the device, so this should help quite a bit.
On a more practical level, if you are going to update your Glass, be prepared for a bit of a process. First, you'll be updated to XE12.1, which essentially prepares your device for the big update. Once the KitKat install gets going, you'll need to plan a good 20 minutes for the process to complete. In addition to the new photo gallery grouping, voice command organization, and photo sharing in Hangouts, XE16 brings a new boot animation to Glass.
We'll be keeping an ear down, because the battery life is the real story here, but it's still far too early to have the real numbers on how Bluetooth LE will affect your power levels.