Google Glass to add music on Tuesday; official video shows stereo earbuds
4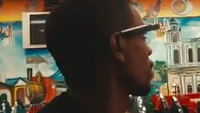 According to
The New York Times,
Google Glass wearers are just hours away from an update that will add the ability to access Google Play Music and an app called Sound Search which identifies songs ala Shazam. Stereo earbuds will be made available for the device by the end of this month, for $85. Late last month,
Google introduced an updated version of Google Glass which included a mono earbud
. The report says that Glass users will be able to search for songs, scan playlists and listen to tunes in "
High-Fidelity
". "
Listen to...
" will become a voice command for Google Glass similar to the way "
Take a picture
" gets the camera to work.
A cryptic message written by Googler Stephen Lau on his Google+ page hints at an announcement coming soon. In addition, a video made by Google shows producer Young Guru wearing Google Glass and using the Shazam like app to find out the name of a song playing at a restaurant. Later on, he starts listening to the song using Glass. Earlier in the video, we see the producer grab for the stereo earbuds.
"
When the iPhone launched in 2007, it had a dozen apps on it and that was it. The whole app ecosystem didn't exist until people could invent for the iPhone. That's kind of where we are with Glass. Music is a big part of that
."-Ed Sanders, director of marketing, Google Glass
While only Google's music service will initially be available on Glass, eventually third party apps are expected to offer competing music products. The report says that Google will market the music service on Google Glass as easier to use than a smartphone with the voice command and easy to view screen keeping music listeners from having to look down at their handsets all day.
source: NewYorkTimes, RollingStone, +StephenLau via
AndroidCentral