Google Glass meets its maker via a Vector submachine gun
11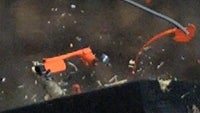 The tech assassin has returned with killer slow-motion video action and Google Glass 2.0 eyewear as the target of destruction.
To accomplish the task, Rick Ryan uses not just one, but two Kriss Vector submachine guns that fire a whopping 1200 rounds-per-minute. These things fire a 45-caliber round, just like you might find in a classic 1911 handgun. In short, whatever these rounds hit, it is going to hurt.
Given the nature of the firearm versus the size of the target, you can expect that things will get quite messy. Of all the rounds fired, only two actually hit Glass, the rest go on to lay waste to whatever else they hit. Still, hitting anything exactly on target on full-auto is quite an accomplishment.
In the second set-up, Ryan bears down on Glass with two Vectors, essentially shooting from the hip. Again, only one round hits, but it is the fatal blow as the rest of the assembly and stand are disintegrated by the slugs coming down range. We will give credit for even hitting the stand, let alone Glass, with a firing position like that.
As expected, Glass falls in a hail of gun fire. You can catch all the action in super slow-motion in the video below.
source:
RatedRR
(YouTube)