Google updates Gboard keyboard app with ability to make GIFs, new sticker gallery
3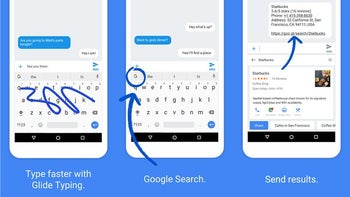 Google has just released a new version of its
Gboard keyboard app
for Android devices. As expected, the latest update brings support for new languages, but the new app comes with a few new features and improvements as well.
Firstly, Google has added support for 16 new languages: Ahirani, Bahamianese, Kannauji, Fijian, Gagauz, Halbi, Karakalpak, Kanuri, Komi, Moksha, Pangasinan, Sango, Veps, Võro, Wagdi, and Zeeuws.
Also, Gboard now allows users to
make their own GIFs
using the phone's camera, and immediately share them with their friends. Moreover, the update adds a sticker gallery that contains more than 500 new stickers.
It's also worth mentioning that those who use the beta version of Gboard app are getting a little tweak for the US English keyboard, which will add autospace after punctuation. If you don't use the beta though, you won't be getting this change yet.
Recommended Stories