Google Duo is now the most popular free app in Google Play, beats Pokemon Go and Facebook Messenger
10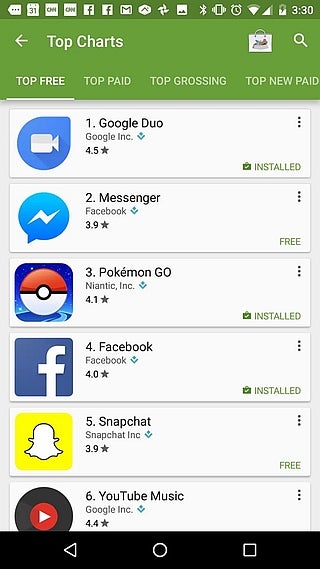 Although it has only been around since the start of the week, it looks like Google's new video calling app is already a smash hit in the US. Google Duo, the video chat app that the Android maker
launched earlier this week
, is now the most downloaded free app in the Google Play Store.
Open up Google Play on your Android device, go the 'Top Free' section, and you'll find that Google Duo is the #1 app in this category. Facebook Messenger and Pokemon Go complete the podium. Facebook, Snapchat, and YouTube Music complete the first page of the section.

Given the strength of its competitors, it looks like Google Duo has managed to raise a significant amount of interest among Android users.

It's also worth pointing out that Google Duo has an average rating of 4.5, which is much better than the rating of Facebook (4.0), Facebook Messenger (3.9), and Snapchat (3.9).

In the past week, many were quick to point out that Google Duo has little chance of actually competing against the likes of WhatsApp, Facebook Messenger, and FaceTime in terms of users. As it turns out, however, Google Duo is already a smash hit with Android users.

After a limited initial launch in a number of countries around the world. Google Duo is now available globally.
Getting off to a very good start is one thing, but maintaining this initial inertia is another story altogether. It remains to be seen if Google Duo will be able to convert this wave of initial users into daily active users. This Google Play chart tells us for sure is that many Android users gave the app a chance, but Google's real challenge is to convince users that Google Duo is their best option for video chats looking forward.