Another day, another important Google app gets Dark theme
2
If you ask the average smartphone user to rattle off the name of Google's core apps, you're bound to hear Search, Maps, Gmail, Google Play Store, Drive, Messages, and Photos. What might not come to John Q. Public's mind is the Google Duo video chat app. Similar to the way that Google has built up Maps by adding new features and capabilities, the company has been updating the app a number of times to take Duo past simple one-on-one video chats. For example,
Duo members in the states, Canada and India can now engage in group video chats
with up to four people at the same time. While this doesn't come close to the 32 FaceTime users that can meet at one time on iOS, Google says that it will expand the capabilities of Duo's group video chats over time.
And today, the Holy Grail of updates is being disseminated. That's right, Dark theme is now available for the Google Duo app. Those running Android 10 on their phones will have three options: Light theme, which is the traditional blinding white background with dark text; Dark theme, which offers a black or dark gray background with light text; or System default. The latter will open Duo in Light or Dark theme depending on whether the system-wide Dark theme for Android 10 is toggled on or off. With Dark theme enabled, Duo users won't have their retinas melted off or disturb other people at night or in a dark room. In addition, Dark themes that use a black background can save a little battery life on phones with an AMOLED display. That's because the color black is created on an AMOLED panel by turning off a pixel in the appropriate location. When a pixel is turned off, it does not require any power from the battery. On phones running Android 9 or older, Duo users will have the option to choose between Light theme and Dark theme.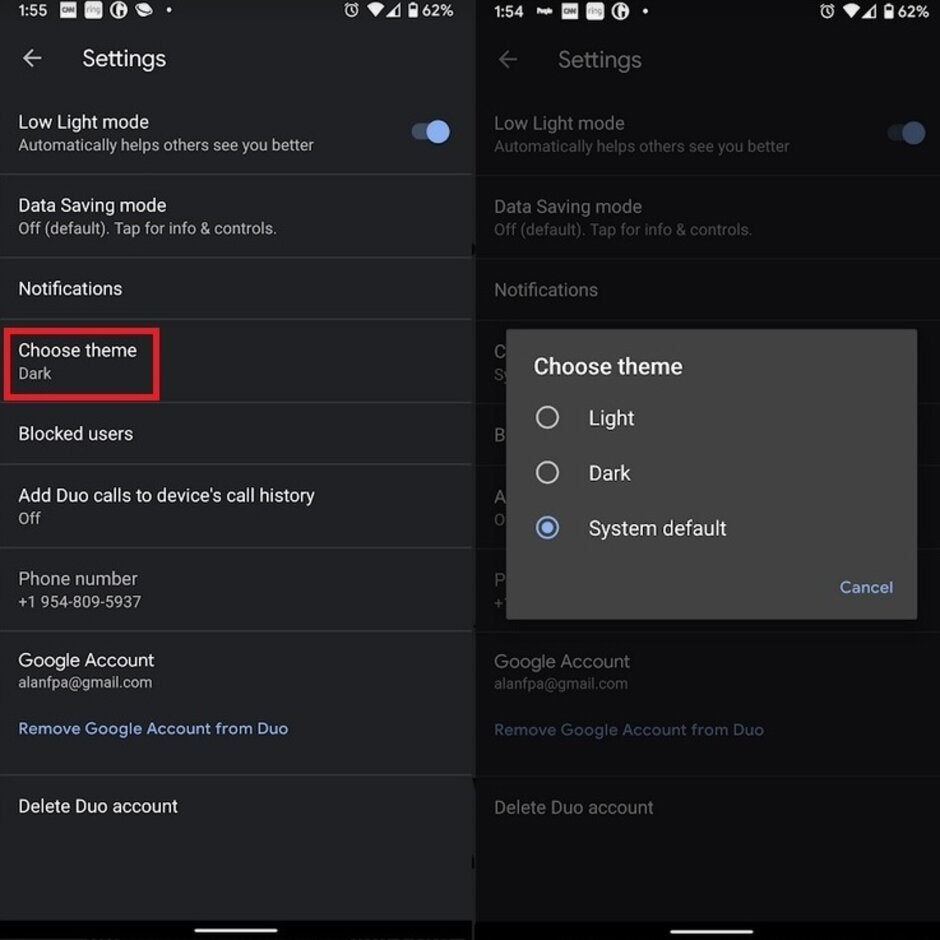 Dark theme comes to the Google Duo app
To change the settings, open the Google Duo app and tap on the three-dot overflow menu at the upper right-hand corner of the screen. Go to Settings > Choose theme. The Dark theme option appears with version 63 of the app but might also require a server-side update to show up on your phone.