Google Canada executive happy to see Apple Pay enter the mobile payment market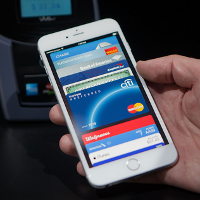 Sam Sebastian, managing director of Google Canada, is actually happy to see Apple enter the market for mobile payment systems. And he sounds excited about the prospects of the Google rival doing well in the "tap to pay" arena. Although Apple Pay is only available for now on the
Apple iPhone 6
and
Apple iPhone 6 Plus
, it already accounts for half of mobile payments at McDonald's.
Sebastian expects mobile payment usage to increase slightly in Canada next year, but he doesn't see the feature becoming a huge hit. The executive points out that sliding out a credit card to make a payment is not a terribly hard thing to do. He says that consumers will need an incentive to use a mobile payment system,and Google is still trying to figure out what will make Android users use Google Wallet.
To that end, the executive welcomes Apple Pay, especially since it brings more awareness about mobile payments. "
I think anyone doing great new things in the market is great for everyone
," he says. "
If it makes it better for users and it gives folks more choice and more opportunities and better utility it's good for Google, it's good for anyone
."
"It's not, frankly, that hard to pull out a credit card and pay for something. So we have to delight (consumers) in some way beyond what they already do. So is there a way to deliver promotions, discounts, all sorts of other things that actually provide more utility if you use your phone as the wallet?"-Sam Sebastian, managing director, Google Canada
Besides McDonald's, Apple Pay is available to use at a number of high-profile retailers including Bloomingdale's, Disney Stores, Macy's, Nike, Staples, Subway and Walgreens.
source:
CTV
via
MobileSyrup