Samsung may deliver flexible displays as soon as next year
51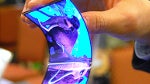 We've been hearing promises and seeing demos of flexible displays for a while now. So long that it seems as though the tech may never arrive, but a new report is saying that we could actually see flexible displays as soon as next year, and that Samsung could be leading the pack, at least that's what the BBC is saying.
Samsung is obviously not the only company working on the technology. LG, Philips, Sharp, Sony and Nokia are all working on flexible displays, but the word is that Samsung will be the first to actually ship the displays in products, and it could happen next year. According to the report, LG has already begun mass producing flexible e-ink displays, but Samsung could be the first to make a flexible smartphone display, likely using Samsung's favorite OLED tech.
Of course, we still don't have flexible motherboards, or flexible batteries, so don't expect fully flexible phones just yet. But, flexible displays would definitely end that whole problem that we saw with the
iPhone 4/4S
, and that the
Nexus 4
is having with cracked glass. Flexible displays are said to be virtually unbreakable.