Google, Amazon, Facebook, and eBay join together lobbying efforts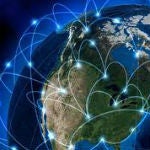 There have been a bunch of reports recently about just how much various corporations like Google and Facebook have been spending on lobbying efforts in Washington, and now it seems like the two giants are joining forces in those efforts. Additionally, Amazon and eBay have joined up with Google and Facebook to form The Internet Association, which is planned as a lobbying group which will fight for a free and open Internet.
Michael Beckerman has been named as the first CEO of The Internet Association. Beckerman last worked as deputy staff director to committee Chairman Fred Upton (R-Mich.), but stepped down last month. Overall, Beckerman has 12 years of experience on Capitol Hill. Beckerman will help to fulfill the Association's mission to

"strengthen and protect an open, innovative, and free Internet."
Other than that, there isn't a lot of information about the group's plans. The group will officially launch in September at which point we will not only get a more complete list of goals for the group, but a full member list. Google, Facebook, Amazon, and eBay are the only known members right now, but there will be more companies joining up.
It seems like The Internet Association is going to be up against Verizon, AT&T and other carriers and ISPs, because as we've seen Verizon and other carriers want to be gatekeepers, control content going through their pipes, and prioritize their own services. There is going to be a lot of money on both sides, and this fight can quickly get ugly.