Goldman: BlackBerry 10 to sell 2 million to 3 million units per quarter for the rest of this year
7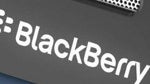 Sure, some other phone launched today, it's supposed to be a big deal. What is it called again? Ah, just kidding. We all know that the latest Android flagship model has just been unveiled and that the
Samsung Galaxy S 4
is going to be on everyone's mind for a long time. But that doesn't mean that there wasn't other news on Thursday involving other handsets. For example, Goldman Sachs analyst Simona Jankowski has a buy signal on BlackBerry with a target of $19. The shares currently trade hands at $15.06.
More importantly, Jankowski expects BlackBerry 10 sales to hit 500,000 units in the first quarter, which covered a limited release for February and March. Once the U.S. carriers do their thing (
AT&T will launch the Z10 on March 22nd at $199.99 on contract
with
Verizon to follow at the same price the following week
), the analyst expects to see BlackBerry 10 sales of
two to three million units each quarter
for the rest of the year. At the low end of her projection, that would mean 6.5 million units will be sold in the first 12 months. At the high end, that number would be 9.5 million. Those number are
certainly nowhere near the 100 million units Samsung says that the Samsung Galaxy S 4 will sell in its first year
. In fact,
it is even less than the 10 million units that the just announced handset is expected to do in its first month
. But that is more a statement about the Samsung Galaxy S 4 than an indictment about the
BlackBerry Z10
.
In a few weeks, we should see the launch of the QWERTY equipped
BlackBerry Q10
trace out roughly the same launch pattern that the Z10 followed. There are some analysts who believe that because of the strength of the QWERTY on the device, the Q10 will prove to be the BlackBerry 10 model carrying the most demand. In the meanwhile, Jankowski says that her checks of retailers shows demand for the BlackBerry Z10 above and beyond what she had expected. She expects that if this strength continues, BlackBerry will be able to
raise the price
for the phone and increase its profit margins. Yes, for BlackBerry to succeed, it is going to have to take baby steps. The only question is if the company has the time to learn how to walk before it has to start running.
We conducted retail checks at nearly 40 stores in the UK, Canada, UAE, and India, to gauge the Z10 launch sales and subsequent demand. Specifically, we asked questions around popularity, sales trajectory, consumer feedback, inventory, and return rate. Based on these, we believe that most stores had a successful launch week, followed by steady demand for the device […] Z10's pricing around the world implies an ASP of over $500, well above the November quarter's smartphone ASP of $227 (Exhibit 1). As a result, we expect the Z10 ramp to drive a significant increase to BlackBerry's ASPs and margins, implying upside to consensus estimates in FY4Q and to a greater extent in the May and August quarters, which include 3 months of shipments globally as opposed to 1 month of shipments in limited regions in FY4Q (Feb)."-Simona Jankowski, analyst, Goldman Sachs
source:
Barron's
via
BGR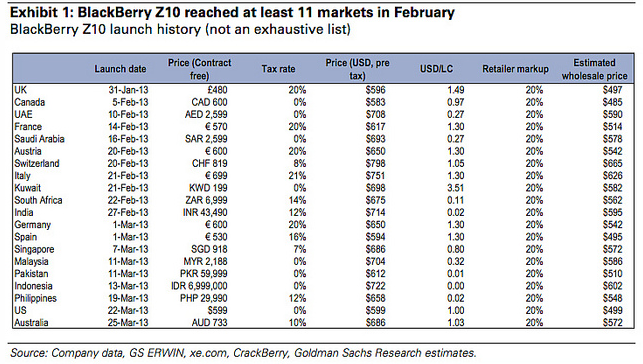 Launch history for the BlackBerry Z10, courtesy of Goldman Sachs