Going to Rio de Janeiro? Your smartphone will be useful
6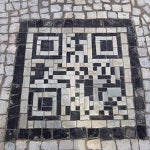 Rio is a place where it is worth the effort to bring a really nice camera to capture the moments that you will most assuredly have while visiting.
QR codes (Quick Response codes) are the norm now, and the city has found a neat way to blend modern technology with the traditional environment. Rio de Janeiro has started to embed QR codes as mosaics within the trademark black and white sidewalks that are all over the city.
Two codes have been installed at Arpoador, a landmark boulder that is found at Ipanema beach, which is known for surfing and spectacular views of the beach and city. The beach is also known for being dog friendly too.
Rio has plans to install 30 QR codes at various sites which should give ample access to tourists while preserving the historic designs found there. It will certainly prove useful for people that will be visiting during the run up to the Olympics in 2016.
source:
The Telegraph