Godus – a god game by 22 Cans – arrives to iOS, free to play
6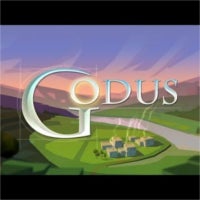 22 Cans is a game studio created by Peter Molyneux – a game designer known for titles such as Theme Park, Populus, Dungeon Keeper, Black and White, and Fable. If you are familiar with these games, you'd notice a pattern – four of them are management simulation strategies and three put you in the position of a god (or in the case of Dungeon Keeper – an evil, sadistic pit lord).
Well, 22 Cans' newest release is called Godus and – surprise surprise – it's a god game. The team is quite ambitious about making it their "dream game", and even though it's been available on PC since last September, it is still considered under development. That didn't stop it from landing on iOS today, though.
Now, when we say "under development" – don't expect it to be a beta. Apparently, 22 Cans still has a lot of ideas for the later stages of the game, however the fact that they are not implemented does not make it unplayable. The iOS version follows the freemium model, with IAPs for the in-game currency, whereas if you want to get early access on the PC, you'd need to shell out $19.99.
The game's goal is simple – help your people, so that they will grow in number, their faith will flourish, and you will grow in power. To achieve that, you have to modify terrain, so that your builders can create more huts, lead the people to beacons and temples that extend your reach and power, defend them from natural disasters and even from rival gods. Whether the game will implement a multiplayer of any sort is still unclear (though, it was talked about in its Kickstarter campaign, back in 2012).
We have to say, the game translates quite well on a tablet. There's just something more intimate about saving a drowning couple with your finger, rather than a mouse, and seeing them turn to the screen and bow. Well played, Mr. Molyneux, well played.
Download:
iOS
(free, with in-app purchases)