GoPano Micro for the iPhone 4 enables 360° video recording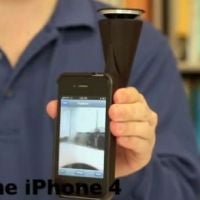 Are you ready to take
360°
videos with your iPhone 4? While it's not on the market quite yet, the GoPano Micro is a 360° lens attachment that will make that possible.
You simply attach the GoPano Micro to your
iPhone 4
, and
the 360° lens on top will take simultaneous video of everything around you
. While recording, you can pan around, by swiping, to view a particular angle, but you can pan at will throughout any subsequent recording.
The included GoPano app will allow you to post your 360° videos, share them with your friends, and view the videos of other users. It also includes some demo videos to showcase the utility of a 360° recording, i.e. live sports, special events.
GoPano posits that "360° video will become as important in broadcasting as sound was to silent movies or color television was to black & white". But in the meantime, you can capture every angle of your next journalistic or artistic endeavor.
GoPano has secured their US$20,000 in funding necessary to build the GoPano Micro, but
you can reserve one of their first production models by contributing $50 on Kickstarter.com
. Once they hit the retail market, GoPano plans to charge $80 per unit.
source:
Kickstarter
via
Engadget