Global launch of Windows Mobile 6.5 on October 6th includes AT&T, Verizon and Sprint
9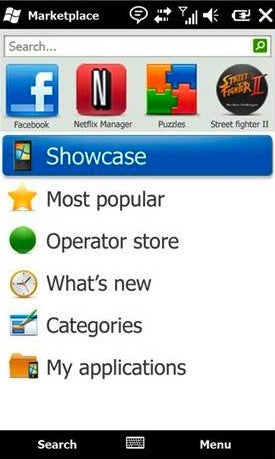 Windows Marketplace for Mobile
October 6th is shaping up as a big and exciting day for cellphone fanatics. That is the date that the first handsets powered by Windows Mobile 6.5 will launch worldwide. In the States, the top 3 carriers (Verizon, AT&T and Sprint, in order of size) will be taking part in the festivities by releasing new models equipped with the "Windows Phone" software. As we have
reported
, that is the new name that the Redmond based software company has put on its Windows Mobile line of cellphone operating systems in an attempt to make things easier for consumers to remember. The new moniker also allows Microsoft to keep the Windows name on the minds of cellphone users.
Windows Mobile 6.5 has been developed with the goal to be more consumer friendly than past releases, which were built with business use in mind. "We know people want a phone for their whole life," said StephanieFerguson, general manager in the Windows Mobile unit. "They justfrankly want to do more. That's why we've shifted." One of the changes takes place with the new build of the Internet Explorer browser. While past versions were usually relegated to the trash heap after a download of Opera Mobile, the new IE offers some support for flash and easier site navigation. Other improvements include threaded email and the new Windows Marketplace for Mobile app store. Microsoft is under pressure to woo business users who have been buying BlackBerry phones for enterprise use, and in the last year, Apple has made great strides in getting the business community to warm up to the iPhone, which had previously been seen as a toy for consumers."Microsoft probably didn't get the share of the enterprise space thatwe all would have expected three or four years ago," said Jeff Bradley,senior vice president of devices for AT&T. "I think Research InMotion did even a better than expected job of gaining that share." AT&T didn't say which of their phones will support the new Windows Mobile 6.5, but it will be a combination of new devices and updates for models using the current 6.1 version..
Besides the improved browser and the Marketplace, other features in the new OS include "My Phone" which gives users a way to back up all of the important data on a cellphone and includes the "Find My Phone" service which can help retrieve a lost or stolen handset. If the phone cannot be found, the info can be remotely wiped off the device. Windows Mobile 6.5 is seen as an interim release that bridges the gap between the current build in use and the more ambitious 7.0 version which has been in the works for over two years, and is expected to see daylight sometime in 2010.
source:
CNET