Gionee M5 to come with dual batteries inside to provide insane battery life
29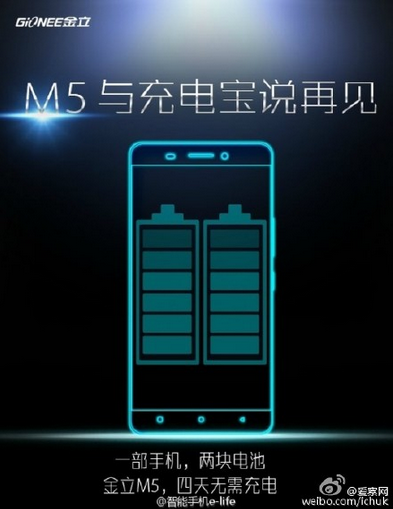 Teaser for the Gionee M5, a handset containing two batteries
Proud of how you've been able to extend the battery life on your phone? You've switched the mobile settings from Global to LTE, lowered the screen brightness, calibrated the battery and removed hungry apps that were eating power like they were candy. But no matter what you've done to lengthen the time that your handset can stay off the charger, you are not going to beat the battery life of the Gionee M5.
With everyone still excited, waiting for
the unwrapping of the beastly Gionee Elife E8
, the manufacturer has produced a teaser for the M5 that shows it will contain not one, but two batteries inside. So even if battery one has conked out, battery two gives you a fresh cell to run off of. While the size of the batteries are not known, two decently powered cells could provide up to four days of life before you would need to charge the phone.
Gionee has apparently been able to solve the problem of size that has kept smartphone manufacturers from offering phones powered by dual batteries. There is a dearth of information about the M5, which means that dimensions are unknown as are the specs for the handset. Perhaps we will see some more leaks about this intriguing model in the days ahead.
source:
Weibo
via
GizmoChina